Palazzo Lantieri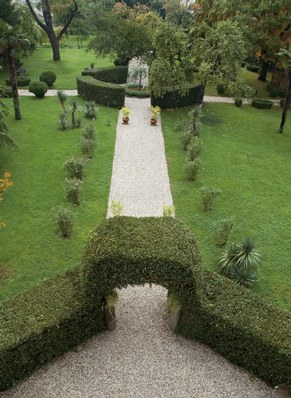 In the 16th century the palace was considered the most beautiful of the city and earned the name Schönhaus (Schönhaus is German for beautiful house). In 1527 its proprietor, the Baron of Lantieri, was officially accepted as a member of the Gorizia aristocracy, acquiring the title of Baron of Lantieri Schönhaus. Many famous persons were guests at the Lantieri palace: among them the Venetian playwright Carlo Goldoni in 1726, and Pope Pius VI who stayed there in 1783 while on his way to Vienna. Another famous guest was Countess Chambord, Henry V's wife, who between 1883 and 1886 was responsible for the construction of the Grotto of Lourdes in the palace garden (still visible today).
The first reliable documentation regarding the gardens of Gorizia dates to the 1700s, a century which is considered to be the city's golden era. Maps from that period show that local palaces always had a green area, even if often of limited dimensions, characterized by a simple geometric shape and hidden inside the boundary walls. These gardens were traditionally designed and did not reflect the English influence which was popular in Europe in the 1700s. The lovely Schönhaus garden surely followed the fashion of that time and had both exotic and rare plants to create a precious garden, a source of prestige sought after in those times by both the public and private sectors.
This earlier geometrical design can still be distinguished today, even though the plants have been substituted. It is easy to recognize the central avenue, which begins at the entrance gate and leads to a wood. Four walkways intersect the avenue at regular intervals, forming frames for arboreal plants; the walkways meet at circular resting areas, one adorned with a flower bed and the other by an old stone table covered by a lovely pergola. Along the sides of the green lawns box hedges form a rhythmic motif, probably following a previous, formal design. At the end of the main avenue the plants have been informally mixed with evergreen trees among which splendid horse-chestnut trees.