Casa Fortificata La Brunelde (Fagagna)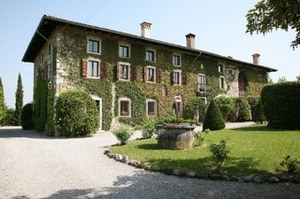 The site, which was first mentioned in 1208 in an inventory of the Tricano (Arcano) family properties, had already been inhabited in Roman times. In fact, the domus magna tricanea (Counts Tricano's family home) was probably erected on the remains of a Roman villa along the road which went from Concordia to Silanos. It consisted of a large building with a north-western tower, flanked by some smaller houses, protected by two walls and a large moat, which has only recently been filled up but can be noted by a slight depression in the ground. Beginning at the end of the 15th century and especially between 1517-1518, the small fortress was radically transformed by Giovanni Nicolò d'Arcano who extended the side wings, englobed the central tower, and constructed (converting a small guardhouse) the chapel dedicated to San Nicolò.
Of special interest is the "modern" layout of the apartment on the ground floor, probably designed following the suggestions of Rizzardo d'Arcano, Secretary to Cardinal Zeno in Rome. It was constructed around the central hall and includes a small study and a room with a fireplace.